Hairstyles to Try This Summer
As the weather heats up, it's time to switch up your hair style accordingly. There are a lot of styles on Instagram and Pinterest that can give you inspiration for the humid months ahead, such as unicorn colored pixie cuts and bobs, beaded braided styles that pay homage to the 70's, and faux locs fit for a goddess, or queen. Here are the top picks for these haute summer styles to have you ready for your next vacay or block party.
1. Short and Sweet.
Whether you're relaxed or natural, a short cut is always the way to go when things start heating up. Here in Philadelphia the summer humidity is nothing to play with and often trimming your tresses is a quick and easy way to keep your cool as temperatures rise. If your natural or transitioning, have the shears been calling your name ever so faintly? Now's the perfect time to experiment with a tapered fro or a twa. Your daily styling time will be almost nonexistent and you'll be sexy and chic in an instant. Still want to add more flair to your short hair? Add some color to your cropped locs, honey or platinum blonde, pastels, or warm red are perfect for giving your new do that It factor.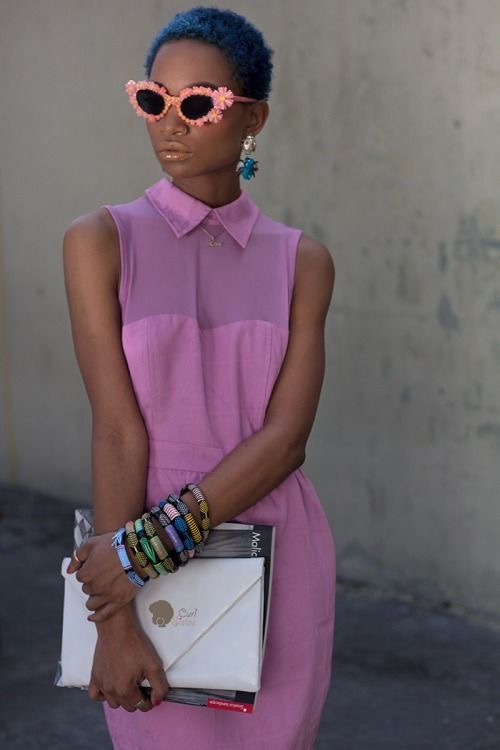 2. Feed in's
There are many feed in styles to choose from including the traditional cornrow, flat two strand twists, and individual box braids. The Feed in Method involves the gradual addition of braiding hair into your own natural hair during the braiding process. This method provides the most natural look for braided extensions since it gives a seamless appearance where the extension looks as if it is growing from the scalp. Here a few examples of feed in styles, these sexy side swept cornrows and these box braids that will have you saying "long hair don't care." A bonus to this style is length retention and less breakage. Since the weight of the extension is even distributed throughout the hair versus being knotted at the roots there is less tension on the scalp reducing the risk of stress alopecia. So, you'll be saving your edges and slaying lives with your style.
3. Goldie Locs
Loc extensions have been seen all over social media in various lengths and sizes. They are back again this season with more whimsy. Gypsy dubbed, messy, looser ends and larger sized locs are taking over Instagram feeds and your screenshot gallery. Check out these beauties, the tutorial is so easy to follow you can DIY this with professional looking results. Make this a nail and not a fail by carefully sectioning your own hair in proportion to the size of the locs you have selected. Rihanna was seen in the fall rocking these mega sized locs and they are still a hot commodity this season. If larger locs aren't your thing, try these mini sized locs. These again are easy to DIY using the conventional crochet method and the results mimic Sister Locs without the commitment.
4. Braids with beads
Don't compare these to beads on a school girl's plaits. Oh no, these are fun and all grown up. They add bohemian sex appeal to your hair, are removable and reusable. You can mix and match textures, such as this metallic and wooden bead mix. Also try adding beads to a braided wig to achieve this look. This is one of my favorites because I love wigs for their versatility and adding the beads is so nostalgic like a 70's dance queen. The best part is you can get this exact look any time since ISSA WIG! If your hair is long enough you can rock your fro in the back and a few cornrows braided along your hair line like this. Super edgy and very easy to do. You can rock out all weekend and take it down just before hitting the office on Monday if you'd like.
These looks are just a start. There are so many other hot styles to keep you sexy and cool this summer like this blunt cut bob, a curly fro, or this simple fishtail braid. Which looks will you try this summer? Tag us on Instagram and show us your haute summer hairstyle.
Tina McEachin
@heyitsxotina
Cover photo credit to Tumblr